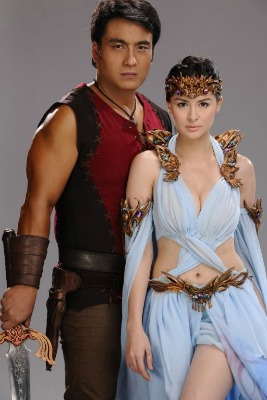 photo courtesy of www.gmanetwork.com*
Yesterday, I paid for three (3) tickets to a Tagalog Film. This is my first time to watch a Manila Film Fest entry, and my first time to watch a Tagalog Film on screen in almost eight (8) years.
My husband wanted our baby to watch Panday, since the little guy is quite fond with dragons and he saw the movie's trailer with the dragons.
Well, the script was a little too corny for my taste. For an adventure film, and a film for kids, there were too many dialogues that could have been taken out.
My baby was enthralled with the CGI effects though. I, too, was impressed with some computer effects, like that portion where Bagwis (is she the dragon?) was on the way to Arlana's world. I even liked Lizardo's make-up. And Marian Rivera is really pleasing to the eyes. Of cours, Iza Calzado is beautiful too.
But the acting of a lot of the characters were too corny, like Panday's Lolo. Does he really have to do that thing with his mouth (puckering down), while talking, to emphasize that he is old?
I would have loved too, if the editing were improved. There were scenes that just appeared out of nowhere, or scenes just popped out without sufficient transition effects.
Finally, I would have enjoyed the film if the fight scenes were longer. There were a lot of dragons in the end, when they decided to fight for justice and peace, but, I didn't see them really fight. The film could have added more of that, since the computer effects would be a waste if not maximized.
But in the end, my son enjoyed And Panday 2, notwithstanding his bored moments, which were a lot. And the fact that he enjoyed, convinced me a little that the 465 pesos I paid for our tickets were "sulit".
Oh, by the way, another moviegoer sitting beside me commented that Bagwis looked like Eragon. What do you think?